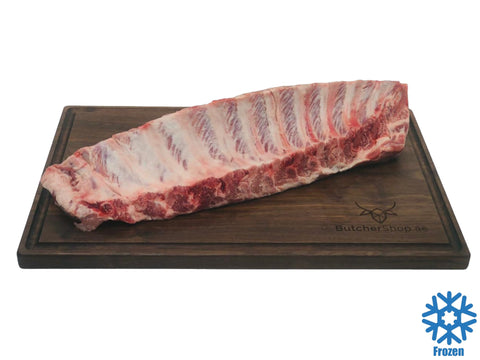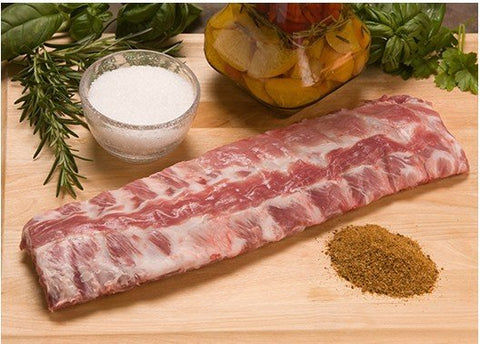 Premium Iowa
Baby Back Ribs, U.S. Frozen
This is an all-time barbecue favorite that will turn a good day into a great day! They're meatier and cook more quickly than St. Louis Style Ribs, making them a more convenient option for busy cooks.
Whether you're a rib connoisseur or not,  it['s good to know that baby back pork ribs are cut from where the rib meets the spine after the loin is removed from the pig. The upper ribs are called baby back ribs, because they are shorter in relation to the bigger spareribs, NOT because they are from a baby pig!
There are various ways to prepare baby back ribs but the common flavor you will notice is barbecue. Some recipes may add a touch of heat or smoke, while others may taste very sweet. When marinated to perfection, the slab should come out completely smothered in barbecue sauce. There are plenty of alternative dry rub seasonings, such as black pepper and brown sugar, that can be used to coat the slab. 
NOTE: Each slab varies in weight. For example, a 1.2kg slab feeds about 3-4 people.
SUPPLIER:
Premium Iowa Pork is a family-owned, antibiotic-free pork since 1916. They
 consistently produce all-natural pork, so you always know exactly what you are getting. And what you are getting is exceptional. Because their herds do not receive antibiotics, they take great care in managing every aspect of the animal's health. Their facilities protect them from disease and their farmers strictly monitor their vegetarian diet to ensure it doesn't contain the animal byproducts found in conventional feed. They continue this adherence to quality throughout the lifespan of the hog and beyond, and they are certified in these rigorous standards from their farms to your tables.
Note: Actual product may be slightly different from the image
PORK PRODUCT
All orders in Dubai placed online will be delivered within 24 hrs
AMEX, VISA or MASTERCARD credit/debit card in AED
Khaleej Times, Station, Al Quoz Industrial Area 1, Dubai
We import premium meet products from around the globe
Delivery Process
Orders below AED 300.00 are available for PICK-UP free of charge from our facilities in Al Quoz, Dubai.

There's a AED 35.00 delivery fee on orders below AED 300. Free delivery is available on orders over AED 300.00

DELIVERY BY EMIRATE:Dubai - same day delivery & pick-up is available if you order before 2:30pm Monday - Friday
Morning: 9am - 1pm (order before 7:30am)
Afternoon: 1pm - 4pm (order before 11:30am)
Evening: 4pm - 8pm (order before 2:30pm)

Saturday (same-day) deliveries in Dubai order before 12pm
Sunday deliveries in Dubai order before 12pm on Saturday

Abu Dhabi - next day delivery when you order before 2:30pm
Abu Dhabi, Al Ruwais - Deliveries on Tuesdays, Thursdays & Saturdays only.

Al Ain, Ras Al Khaimah, Fujairah, Umm Al Quwain, Ajman and Sharjah - will be scheduled within 48 hours of receiving the order.
An email confirmation will be sent for the exact delivery date and time as delivery scheduling could take up to 48hours from order date.

DELIVERY TIMINGS:
Dubai - 9am -1pm, 1pm-4pm, or 4pm-8pm. If you're able to receive your delivery during the earlier slot, it's less busy and we can often accommodate exact timings.

Abu Dhabi, Al Ain, Ajman, Ras Al Khaimah, Fujairah, Umm Al Quwain and Sharjah available delivery timing is between 11:00am - 6:00pm.

Gift Cards: When purchasing Gift Cards, please select any time and date or send us an email or What'sApp and we can help.
Frequently asked question
SAME DAY and SUNDAY DELIVERIES are available only in DUBAI.
Abu Dhabi - Only for next day delivery.
Al Ain, Ras Al Khaimah, Fujairah, Umm Al Quwain, Ajman and Sharjah - will be scheduled within 48 hours of receiving the order. An email confirmation will be sent for the exact delivery date and time as delivery scheduling could take up to 48hours from order date.
NO DELIVERIES on Public Holidays unless specified on the website.
DELIVERY TIMING for RAMADAN is 9:00am to 12:00PM and 1:00PM to 4:00PM. Cut off time for same day delivery and pick-up (DUBAI ONLY) is 12:00PM. ABU DHABI orders will be scheduled for next-day delivery.
Deliveries to AL AIN, RAS AL KHAIMAH, FUJAIRAH, AJMAN, UMM AL QUWAIN and SHARJAH will be scheduled within 48hours.
Our customer service representative will assist you with the exact delivery timing once you have confirmed your order.
How to avail the 10% discount on first-time orders?
Create an account on our website.  (https://butchershop.ae/account/register)
Verify the email you have used on creating the account by clicking the verification link sent to your registered email.
After verification, you will receive a confirmation email with the discount code that you can use on our check-out page.
What are your delivery timings?
Our delivery timings are from 9:00am - 6:00pm from Mondays to Sundays.
Regular days cut off time for same day delivery is 2:30pm.
Saturday cut off time for same day delivery is 12:00pm and Dubai only.
No same day delivery/pick-up on Sundays.
A primal cut is a piece of meat initially separated from the carcass of an animal during butchering. These pieces are large and then need to be cut further to make your individual steak or portion size.
What is the benefit of ordering Primal Cuts?
The main benefit is cost savings. By ordering primal cuts, you are ordering in bulk which can save you up to 30%. The reason you save is that you are buying in bulk and doing a little of the work at home instead of the butcher. When you buy steaks in the grocery store, you pay for the butcher to do that work for you. One more benefit is that you can decide how to cut your meat as per your requirement. Some people like their steaks thick while others not so much. 
How do I cut primal pieces into smaller pieces or steaks?
Breaking down a primal cut is very simple and will only require a few minutes in the kitchen, definitely worth it from the cost savings you will receive. For your convenience, we have compiled "HOW TO" videos to show you the basic cutting techniques for your primal cuts.
Where are your meats from?
Our meat range from the USA, Australia, Holland, Brazil, and South Africa.
Is your meat fresh or frozen?
Our meats are either chilled or frozen depending on the type of meat that you order. The state of the products is mentioned on each product page or image with the badges.
Can I order over the phone?
Yes, please feel free to call us on 04 3808 444 Ext: 506 or 056 400 5268 / 056 994 4168 and we will be more than happy to assist you on your order.
Yes, our meat products are 100% HALAL. Except our Non-Muslim Section.
How do we redeem our loyalty points
Go to https://butchershop.ae/
Click the brown steak icon at the lower right-hand corner of the website
Log in to your account
Select the code you want to redeem based on your accumulated points
The discount code will be sent to your registered email id
You can redeem any code anytime if you have enough loyalty points. The discount codes can only be used on our website's checkout page.
Have more questions? Get in touch!
FREE SHIPPING on orders above 300 AED
Emirates delivery in 48 hours
Same-day delivery is available only in DUBAI